The Benefits of Radiant Snow Melting Systems
Radiant Heat Snow Melting Systems Provide a Number of Benefits
Heated driveway systems are easy to customize and install. Radiant heat can be installed to heat driveways, ramps, loading docks, sidewalks, steps, entryways, and more. The best snow melting systems are designed to withstand the extreme temperatures of hot asphalt installations as well as the stress of concrete pours, so they can be installed with confidence in a wide variety of applications.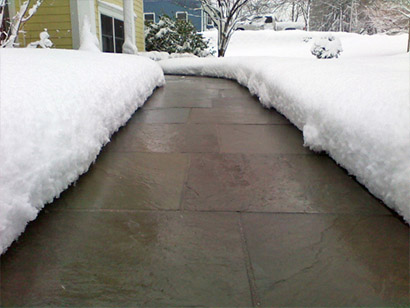 Both hydronic and electric snow melting systems are available. It is recommended that you speak with an experienced radiant heat professional to determine which system is best for you.
Electric Snow Melting System Benefits
AFFORDABLE, EASY INSTALLATION - When it comes to installation, electric radiant snow melting systems have a distinct advantage over hydronic systems. The heat cable is available in individual lengths or pre-spaced in mats that can be rolled out for quick, easy installation. A snow sensor and master controller are then installed to complete the system. While you can install much of the system yourself, it is important that a qualified electrician perform all the wiring. (Carefully follow the instructions provided in your manufacturer's installation manual.)
FULLY AUTOMATED - Radiant snow melting systems are fully automated. In addition to the heating element, these systems feature an advanced snow sensor and master controller. The sensor (aerial or pavement mount) detects precipitation and temperature. If precipitation is detected and the temperature is below the set point (usually 39° Fahrenheit) the sensor signals the master controller, which sends power to the heat cable, warming the driveway. The energy-efficient system operates only when needed.
ENHANCED SAFETY - Because radiant snow melting systems are fully automated, they keep sidewalks and driveways clear of snow and ice around the clock. This dramatically reduces the possibility of personal injury due to slipping on dangerous ice and snow. Installing a radiant snow melting system keeps your property clear of ice and snow to help protect you from personal injury lawsuits resulting from people slipping on icy steps, walkways, or driveways.
NO COSTLY MAINTENANCE FEES OR EXPENSES - Electric snow melting systems have NO moving parts, making them reliable, easy to install, and maintenance free. With an electric snow melting system, there is no need for yearly maintenance fees, checkups, or repairs.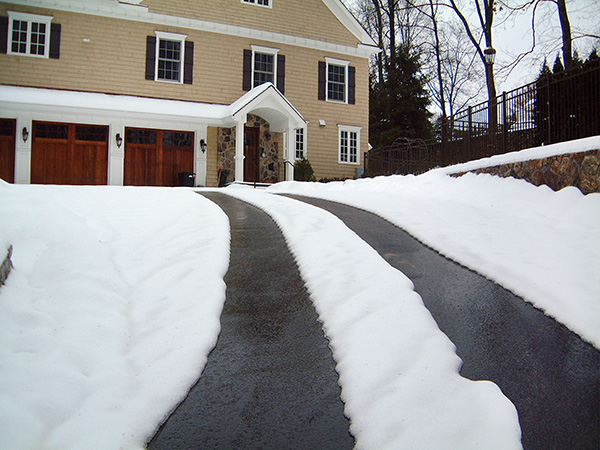 ENERGY EFFICIENT - The industry's most reputable electric radiant heat systems are well designed and very energy efficient. The best snowmelt systems - such as the ClearZone radiant heating system - boast virtually no energy loss, as 99% of all the energy is directed to heating the surface to melt snow and ice. While hydronic and electric radiant heating systems feature their own distinct attributes, electric systems provide rapid response times, generally heating the surface more quickly and efficiently than hydronic snow melting systems.
LOW OPERATING COSTS AND MINIMAL OPERATION TIME - While this is a very general number, on average, you can melt snow on a 300-square-foot driveway for under $0.50 per continuous hour of operation. Furthermore, today's advanced sensors and high quality heat cable make electric snowmelt systems extremely effective, so the job of melting snow is accomplished quickly. Most winter storms last for just a few hours, and the system operates only when necessary to keep the driveway free of snow and ice, keeping operating costs to a minimum.
EASY TO CUSTOMIZEElectric snow melting systems are easy to customize, so homeowners have unlimited options when it comes to finding a system that meets their snow melting needs. In addition to tailoring each system to meet the specific layout and snow melting needs of the customer, the systems can also be customized to meet the customer's budget. For example, instead of heating an entire driveway, a system can be installed to only heat an 8-foot wide strip in the middle. Two 24-inch wide tire tracks can also be installed, or radiant heat can be easily installed in specific areas, such as inclines or other trouble spots. Homeowners have a virtual limitless choice of optionswhen it comes to customizing their electric snow melting systems.
COMPLETE SYSTEM DESIGN LAYOUT AND ENGINEERING - Leading radiant heat system providers custom design and engineer each snow melting system. When you work with reputable professionals, you'll receive complete radiant heat system design and engineering services with your snow melting system. In addition to showing the layout of the heating cable and other system components, a detailed AutoCAD of the system will also include information regarding the proper materials, load calculations, breaker sizes, number of breakers, and so on. You'll know all the details, power requirements, and specs of the project prior to any installation taking place. The design serves as a road map for your installers, helping to ensure quick, proper installation of your snow melting system.
ADDED VALUE AND PROTECTION - Installing a radiant snow melting system can increase the value of your home and extend the life of your driveway. Your driveway and bordering landscape will last longer and look better longer by eliminating the the need for large trucks and snow plows scraping your driveway as well as the corrosive effects of salt and other harsh snowmelt chemicals.
NO NEED FOR BULKY EQUIPMENT OR MECHANICAL ROOM - Electric snow melting systems are discreetly installed under the driveway's surface. These silently operating systems don't require a dedicated "mechanical room" like hydronic heating systems which utilize a boiler, manifold and a series of valves and pumps. A preferred electric snow melting system is controlled by a small, UL listed activation device and contactor panel that is typically mounted on a wall in the garage.
WISE INVESTMENT - Installing a radiant heated driveway or snow melting system can significantly raise the value of your property. So installing radiant heat is a smart choice for for investing in your home. Radiant snow melting systems are long term snow melting solutions that benefit prospective homebuyers and business owners.