Frequently Asked Questions about Radiant Snow Melting Systems
Radiant Heat Snow Melting Systems Provide a Number of Benefits
Radiant heat is a heating technology that is commonly used for snow melting and floor heating applications. It is an efficient heating method that generates heat from a heating element which then radiates outward from the initial heating source to warm all the surrounding objects. These systems are very energy efficient, and very little heat is lost during the radiant heating process. Radiant heat is commonly used to heat driveways, sidewalks, and floors, as well as roof deicing and gutter heat trace applications. Both electric and hydronic technologies are used for various snow melting and floor heating applications.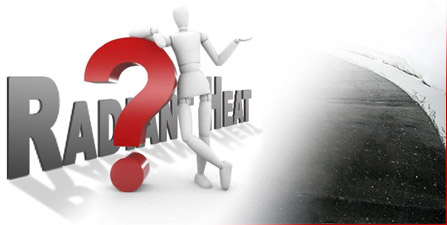 Hydronic systems utilize a gas or oil burning boiler that heats specially treated water which is then pumped by a series of electric pumps through a closed loop of flexible PEX tubing installed under the surface to heat the driveway (or floor). Large hydronic radiant heating systems can often operate at a cost slightly lower than that of electric systems because of the lower cost of fuel (natural gas or oil). Because of the lower operating cost, you may want to consider hydronic radiant heat if you are looking to heat a large area.
Electric snow melting systems are extremely energy efficient and can be installed under just about any type of surface. Electric radiant heat is especially well suited for small and medium sized driveways, sidewalks, porches, and ramps etc. The benefits of electric systems include easy installation, rapid response time, maintenance free, silent operation, and they are easy to customize.
HEATED DRIVEWAYS AND SNOW MELTING SYSTEMS

Q.

How do radiant heat systems work?

A.

Electric radiant heat systems utilize heat cable that is embedded in the driveway as well as a snow sensor and master control unit. When the snow sensor detects moisture and temperatures are below a set point (usually 39°F), the sensor signals the controller. The control unit then sends power to the conductive material (heat cable), warming the surface to prevent snow buildup. Electric snow melting systems feature rapid response times and energy efficient operation.

Hydronic radiant heat systems utilize specially treated water that is heated by a boiler and pumped through a series of PEX tubing that is installed under the driveway's surface.

Q.

How much does it cost to install radiant heat?

A.

Radiant snow melting systems are uniquely customized to meet the specific needs of each homeowner. Therefore, no two radiant heating systems are exactly alike. For accurate pricing, visit a top provider's website and fill out their information form to receive a free quote. (Project information includes square footage, surface type, location, etc.)

Q.

Are radiant snow melting systems energy efficient?

A.

Radiant snow melting systems are fully automated and very efficient. A snow sensor detects precipitation and temperature, so only when conditions warrant does the system operate. (The snow sensor has an adjustable set point which is usually set to 39°F.) Electric snow melting systems feature rapid response times, so the driveway heats very quickly after the snow sensor sends a signal to the master controller that snow melting conditions exists. The systems also feature manual override capability.

Q.

In what types of surfaces can snow melting systems be installed?

A.

Radiant snow melting systems can be installed in almost any surface, including concrete, stamped concrete, asphalt, and under pavers. View photos of snow melting systems that are installed.

Q.

What are the power requirements for your snow melting systems?

A.

The power requirements vary from system to system. Generally, cable heating systems require a 240 V. 30 amp breaker for every 300 square feet you are heating. (On average, a 240 V. 30 amp breaker is required for every 175 square feet you are heating.)

Q.

Are snow melting systems manually or automatically activated?

A.

Typical driveway heating systems come standard with an aerial-mount snow switch/sensor, heat cable, and contactor panel. The system automatically turns on when the sensor detects precipitation and the temperature is below a set point (usually set at 38° or 39°F.). Pavement-mount snow sensors with their corresponding control unit are also available. Systems with in-ground sensors are more commonly used in large commercial applications.

Q.

What are the operational costs of snow melting systems?

A.

At the time of this publishing, the average operational cost for a snow melting system is approximately $0.28 per 100 square feet per hour. This figure is based on a system producing 35 watts per square foot with a kwh rate of $0.08 per hour (the national average kwh rate is $.08/hour). If you know the square feet of the area you want to heat and your kwh rate, you can calculate the operational costs with this formula: heatable sq. ft. times watts per square foot, divided by 1,000, then multiplied by your kwh rate.

View an example of how to determine the operating cost of a heated driveway here.

Q.

How do I go about getting a design of a system and all the technical specs? Who provides system designs with all the necessary electrical information?

A.

A snow melting system is only as good as its design and installation, which is why we recommend that no system be purchased without a corresponding detailed layout. Trusted companies that are leaders in the industry provide comprehensive system design layouts that not only include a detailed layout of the heat cable and components, but also list all the necessary materials and power requirements with technical specs, such as proper load calculations, breaker sizes, number of breakers, and so on. Every technical spec and detail of the layout should be included in the autoCAD provided by your radiant heat supplier. Ideally, your radiant heat provider should also include installation support services. (Visit our radiant heat system design page for more information.)

For free consulting, call 888.488.9276 and speak with a friendly, experienced radiant heat professional and learn more about the best options available for your project. Radiant snow melting systems are easy to customize to accommodate your budget and snow melting needs.