How Much Does a Heated Driveway Cost?
General Installation and Operating Costs of a Heated Driveway System
With today's environmentally conscious mindset and focus on clean, renewable energy you may have heard a lot about radiant heated driveways. What you may not know is that in addition to eliminating the need for salt and harsh snow melting chemicals, these systems, after the initial installation investment, can actually save consumers money, time and effort when it comes to snow removal. And, quite frankly, the convenience of a clear driveway without any physical (or mental) effort can be quite gratifying. But how much does it cost to install a heated driveway; and how much does it cost to operate?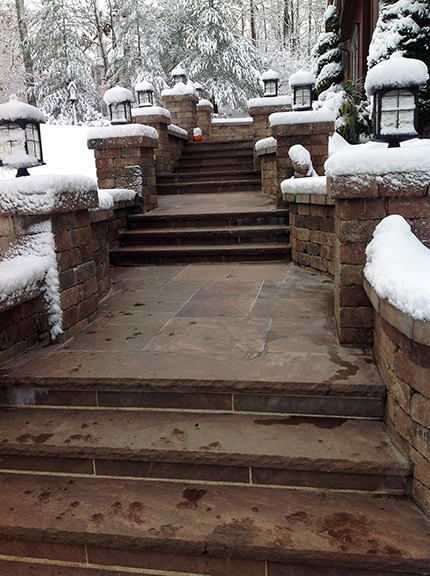 Cost is dependent upon a number of factors. First, you'll want to consider the two types of radiant heated driveway technologies available: hydronic and electric. Hydronic systems utilize propylene glycol, a specially treated liquid that is heated and pumped through specialized PEX tubing that is embedded in the driveway. A boiler heats the fluid and a series of pumps and valves circulate it throughout the closed loop of tubing. While hydronic systems may be cheaper to operate than electric systems (depending on your local utility rates), the installation costs of hydronic systems can be significantly higher than those of electric systems.
Electric heated driveways use a durable heat resistant cable as the heating element to warm the driveway surface. Both electric and hydronic snow melting systems are fully-automated, so they operate only when needed. (The systems also feature manual override capabilities.) Because of the lower installation costs, ease of installation and maintenance-free attributes of electric snowmelt systems, electric heated driveways are often a more preferred solution for most homeowners – particularly for small and medium sized projects.
There are several variables associated with heated driveway installations, so costs vary accordingly. Some factors that influence costs include: the type of payment to heat, the system you choose, the size and layout of your driveway, the contractor/installer you choose, and even the cost of living in your area. No matter which system you choose, be it hydronic or electric radiant heat, either can be easily installed under a variety of surfaces including asphalt, concrete, and brick/stone pavers. Existing driveways can also be retrofitted with a a new snow melting system. Concrete driveways can be retrofitted using saw-cut technology, and asphalt driveways can be heated simply by laying out the cable and applying another layer of asphalt over it. You can also install two, 24-inch-wide electric radiant heating mats to heat "tire tracks" on your existing driveway. When it comes to heating your driveway, you have a lot of snow melting options.
Not only do size, type and layout factor into the equation, but heated driveways are also designed to meet the specific demands in relation to climate, elevation, power needs and the like. So it's important to partner with a supplier that provides complementary radiant heat engineering and design services from some of the most knowledgeable experts around. Unlike many suppliers that just provide the products, the top radiant heat providers will include professional system designs with and support services with each project. This way, you'll have the exact power requirements and performance expectations before a foot of cable is installed, without having to contract out (and pay) for it.
General Costs for Installing a Heated Driveway
While it's true that no radiant heating system provider will want to throw out installation cost numbers without knowing specifics, there are some general figures that may be helpful when pricing out your radiant heated driveway project. Once again, keep in mind that these prices are very general. Your actual price will vary depending on the specifics associated with your project. So, how much does a heated driveway cost? According to Warmzone, one of the country's top radiant heat providers, the cost of a heated driveway system can range between $11 and $25 per square foot.
Advice from an Industry Professional
Bryan Morris, a national sales manager at Warmzone stressed the importance of consumers calling and discussing their project with an experienced radiant heat professional before making any purchase. "It pays to shop around and compare," Morris stated. "Try to avoid being talked into a purchase on your first call. Ask questions and take the time you need. The best companies will offer free consulting and be happy to answer your questions and explain the different options," he added.
He concluded with this valuable advice. "It's vital that prospective buyers consult with a provider that offers more than one brand or product line. Go online and do some checking, but make sure," he emphasized, "that they include complete system design services and installation support with each system. Many companies claim to offer post-sales support," Morris warned, "but very few actually have an expert support staff on hand, designated to provide that service. Professional system design and dedicated, expert installation support should be included with your driveway heating system."
Average Heated Driveway Cost
The average cost of a heated driveway in the U.S. ends up being around $8,500. Of course, installation costs of a heated driveway vary among contractors and electricians. However, after the initial cost, when you consider the low operational costs of a maintenance-free electric radiant heated driveway over time, plus the equity boost to your home, a radiant heated driveway can present an attractive option for homeowners. For just pennies on the dollar, your feet will be hitting dry pavement before you have to lift a shovel, spill salt, or wait on a snow service. And yearly snow service fees can be quite steep if you live in an area that receives abundant snowfall. The bottom line is this: If you live in an area that generally does not receive a lot of snow during the winter months, installing a radiant snow melting system is probably not the most prudent option. But for those living in an area that receives frequent, heavy snow storms, then an automated system might be ideal for you.
Calculating the Operating Cost of a Heated Driveway
One of the most common questions among prospective buyers of radiant heat systems is: "How much will it cost to run the system?" While there are many factors that contribute to the answer of this question, we still can offer a formula that will help you determine what you can expect in terms of operating costs.
Keep in mind that the operating cost of a snow melting system will depend on the specifics of the system. Every snow melting system must be custom designed to ensure peak performance and efficiency. Radiant snow melting systems are designed specifically for the winter conditions of the area. Everything from altitude and average snowfall is considered as well as average winter temperatures. Before using the formula shown here to calculate the operating cost of your snow melting system, you'll first need to know the kilowatt per hour rates of your local power utility company. These rates vary from region to region, so we used the average kilowatt per hour rate for the formula attached.
While systems vary, residential snow melting systems typically operate at 37 watts per square foot while commercial snow melting systems operate at 50 watts per square foot. The formula shown here would therefore change accordingly.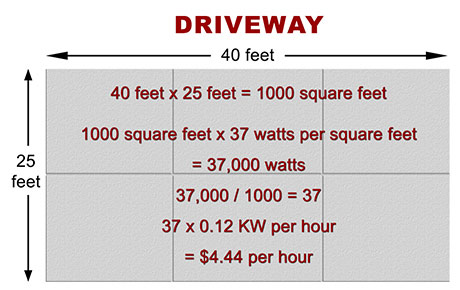 Estimating the Cost for Operating an Electric Radiant System
Determine the total square footage of the area that will be heated.
Multiply the square footage by the heat required (E.g., 37 watts per sq. ft. for residential). This will give you a total for the watts per square footage required.
Divide this number by 1000 to convert to kilowatts.
Look up the kilowatts per HOUR rate from the local power utility company.
Multiply the total watts-per-square foot by the watts-per-hour. This will give you the COST per HOUR of usage for the snow melting system.
When to Buy a Heated Driveway System
With fully automated snow melting systems, the demand of electric output is nominal. If you want to save a few bucks when purchasing a snow melting system, try to make your purchase in early spring. This is when the demand for heated driveway systems is lowest, so you may be receive discounted or slightly lower costs. Don't be afraid to ask the supplier or manufacturer for a discount. It can't hurt to ask, and the chances are good that you will get a slight price break - especially if you purchase in the spring.
NOTE: Heating cables and mats are rated in total watts. If the snowmelt system is intended for a commercial application, then you would multiply the total square footage by 50 watts to get a total wattage required. (i.e. 5,000 sq. ft. x 50 watts = 250,000 watts required).
All things considered, if you're a savvy shopper, and you deal with a trusted, reputable supplier, you can find the perfect match for your requirements and your budget. The best heated driveway providers will not only work hard to custom design your system so that it is ideal for your needs - they will be mindful of your budget and give you different options.