Radiant Heated Driveway and Snow Melting System Options
Custom Driveway Heating Systems to Meet Your Specific Needs
Heated driveways and radiant snow melting systems can be easily customized to meet your snow melting needs and your budget. While there are many different types of heated driveway systems and components, the quality of these systems vary widely. The best snow melting system for your driveway or sidewalks is the one that not only keeps the area clear of snow and ice throughout the winter, but operates efficiently and was installed without going over your budget.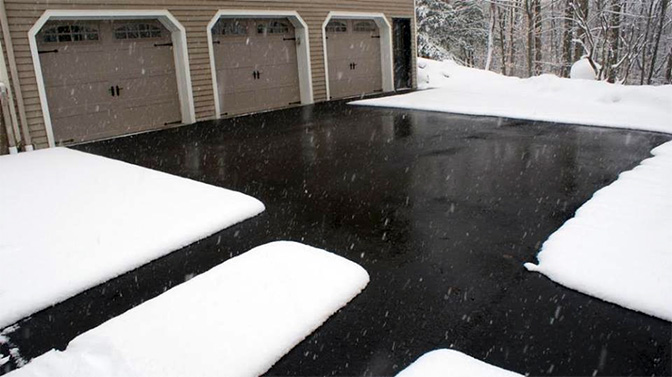 While hydronic and electric heated driveway systems can be tailored to meet your needs, electric heated driveways and walks are especially easy to customize. This allows you great flexibility for installing a system that not only meets your snow melting needs, but keeps within your budget as well. Electric heat cable can be installed to warm odd-shaped areas such as steps, ramps, porches, roof gutters, and more.
The top radiant heat providers will have an experienced design team on hand and work with you to design a system that is best for you. In addition, the best providers will also have a designated support staff, so electrical experts and experienced system designers will also be available to you during the installation process. The best, most reputable providers will even provide free installation training. These are the best professionals to work with.
Popular Heated Driveway and Radiant Snow Melting System Options
Whether you want to heat your driveway, sidewalks, patio and other areas to keep them free from snow and ice, or simply want a minimal radiant heating system that allows you to be able to get in and out of your driveway during heavy winter storms, there are a number of radiant snow melting solutions that will meet your specific needs.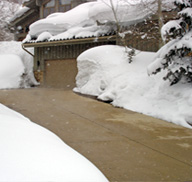 Heat entire areas - Radiant heat can be installed to keep your entire driveway, sidewalks, and other outdoor areas completely clear of snow and ice. Snow melting systems are often installed to heat entire ramps, parking area, bridges, sidewalks and walkways, and more.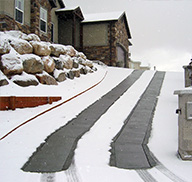 Apply radiant heat only to trafficked areas - Heat the specific, most trafficked areas of your property, whether it's asphalt, cement or stone pavers. For example, instead of heating an entire driveway, just heat an 8-foot strip in the middle of the driveway, or most trafficked area of a ramp or loading platform. Or heat a 3-foot center portion of sidewalks or entryways. Save money by installing radiant heat only to areas that are going to accessed the most.
Heat small, select surface areas - Rather than installing a snow melting system under the entire driveway surface, apply radiant heat only to minimal areas. For example, install a pair of 2-foot-wide tire tracks for your heated driveway. The best radiant heat providers will work closely with you to meet your snow melting needs while keeping within your budget.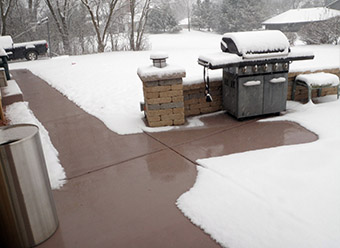 Small, custom sized radiant heated snowmelt systems can be installed in disability ramps, stairways, small patios, walkways, dog kennels, and more. The applications are virtually unlimited.
Both electric and hydronic radiant heat technologies can be used for heated driveways and snowmelt systems. Both of these Warmzone systems feature the highest quality components available. Radiant heated driveways can be installed in virtually any application and customized to any unique shape, making radiant snow melting a realistic option for all consumers.
Who Installs Radiant Heated Driveways?
Much of the initial installation work of an electric snowmelt system can be done by any ambitious "do-it-yourself" homeowner or contractor. For example, the cable can be laid out over the area to be heated and secured to the remesh (for concrete installations). However, it is important that a qualified electrician wire the system.
For concrete installations, the heat cable is secured to the remesh and typically spaced at 6 inches (depending on your system). MeshUps, dobies or chairs are used to keep the cable raised so that it is within 2 inches of the surface. The concrete is then poured over the cable. For asphalt applications, the heat cable is placed over the area to be heated and asphalt is then applied on top of the cable and then compacted. It is vital to use cable such as ClearZone heat cable that is designed to withstand the stress and extreme temperatures of hot asphalt applications.
Visit the radiant heating photo gallery to view images of some snow melting systems.