Installing a Radiant Snow Melting System
Radiant Heated Driveways can be Installed in a Variety of Applications
Radiant snow melting systems can be designed, engineered and installed in virtually all types of common mediums (asphalt, concrete, pavers, etc.) in any size, shape and layout of driveway. From custom residential driveways, steps and sidewalks to large parking lots and loading ramps, radiant snow melting systems can be installed to accommodate virtually all your snow melting needs. And customers have several custom options to choose from when it comes to their budget and snow melting project. Snow melting systems can be installed to heat entire driveways, or an 8-foot-wide strip in the middle, or two 24-inch-wide tire tracks. When you work with an experienced, proven provider, your system will be tailored to best meet your specific budget, power constraints and snow melting needs. Click here for tips on how to find the best radiant heat provider.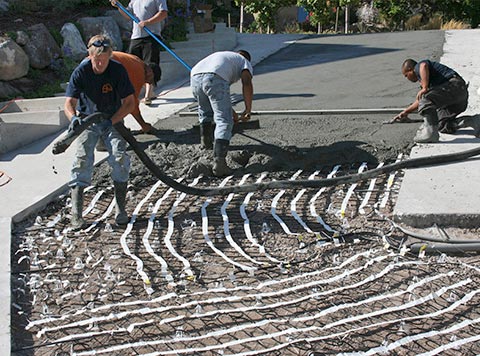 Today's reputable radiant heat providers offer sturdy heat cable that can be installed in a variety of applications. Most standard heat cable offered by the leading providers is comparable. However, buyers need to be somewhat more selective if they are looking for heat cable to install in hot asphalt applications. (See the New Asphalt Construction Heated Driveways section below.)
Concrete Heated Driveways and Sidewalks – New Pour
The most common medium used for heated driveways is concrete. The snow melting cable used by the leading providers is durable, and capable of withstanding the stress of heavy concrete pours.
During the installation of a concrete heated driveway, the heat cable is laid out over the area to be warmed and then secured to the wire remesh. (Zip ties are typically used to secure the cable.) The concrete is then poured over the cable. (Installers must take care when spreading the concrete to make sure that the cable isn't damaged by shovels or rakes.
New Asphalt Construction Heated Driveways
Hot asphalt can damage some lower quality heat cables, so you must use heat cable that is designed to not only withstand the extreme temperature of hot asphalt applications, but also be durable enough to handle stress from the compression of newly poured asphalt installations. A good standard in which to measure reliable heat cable for asphalt applications is ClearZone® high-temperature snow melting cable for asphalt. The external jacket of ClearZone heat cable is specially constructed to handle temperatures up to 464°F (240°C) for up to 10 minutes. The radiant heating cable is laid out on the base surface (usually compacted sand), and the asphalt is then hand shoveled on top of the cable and then compacted.
NOTE: When compressing asphalt pavement over heating cable, do not use a track application machine. Rubber tire applicators are ok as long as the asphalt temperature is below the maximum temperatures listed by the manufacturer. Your provider / system designer should cover all the installation details with you and provide you with technical documentation containing the specifications of the cable.
For asphalt applications, it is recommended (but not required) to install 1-inch rigid insulation underneath the base surface. The insulation can be installed underneath the base surface or it can be laid on top of the base surface and the snow melting cable can then be secured on top of the insulation. The heating cables or mats should be covered by 2 inches of asphalt.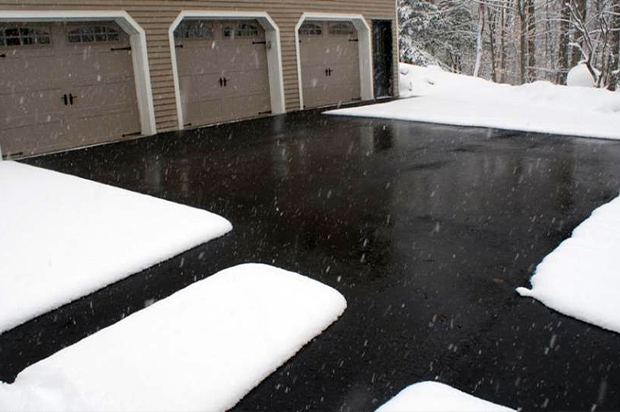 Brick Paver Driveways – Installation
Radiant snow melting cable can also be installed to effectively heat brick and stone paver driveways. Installing a snow melting system under pavers is also one of the easier radiant heat installation methods. The heating cable is laid out on the base surface (paver dust or sand). Another layer of paver sand is then applied and the pavers are then installed, as usual, directly over the cables. Heat cable designed for outdoor (snow melting) applications is tested and approved for wet conditions, so the cable can come in contact with moisture without its performance being affected.
Retrofitting Driveways with Radiant Heat
In addition to being installed in new construction projects, snow melting systems can also be applied to existing surfaces. The easiest retrofit application is with asphalt. If you have an existing asphalt driveway and intend to re-pave it, you can apply heat cable by securing it to the existing layer and then applying fresh asphalt over the cable. A minimum of ½-inch of asphalt must be applied over the cable. Hand shovel the new asphalt over the cable and then compact it. This is a simple retrofit and should provide outstanding performance for heating the asphalt driveway.
Saw-cut technology can be used to heat existing concrete driveways. Grooves are cut into the concrete and heat cable is then inserted into the grooves. A special epoxy is then applied (often sprinkled with sand to enhance traction) to seal the cable in the groove.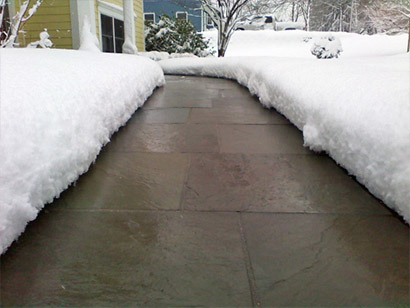 Fully Automated Heated Driveways
Cold leads extend out from the embedded heat cable and are wired to the contactor panel that is typically mounted on a wall in the garage. (Be sure to refer to your manufacturer's installation manual for specifics on embedding the splice and connecting the leads. An electrician must perform this work for the warranty to be valid.) An aerial or pavement mounted snow sensor is also wired to the control panel. When the sensor detects precipitation and the temperature is below a set point (usually 39°F.), it signals the system to send power to the heat cable and warm the driveway. While the system is fully automated, the activation device also features manual override capability for times when you may need to melt snow or ice that has formed due to wind or shade. For more information on how snow melting systems work, visit our heated driveways web page.
In addition to the many different types of surfaces that systems snow melting can be installed under, you have many custom configurations to choose from. The top providers will work closely with you to provide the optimum snow melting system for your budget. You should also receive a detailed design of your snow melting system so you'll know the proper layout, materials, load calculations, breaker sizes, and number of breakers, etc. Knowing all the electrical and layout requirements prior to any installation ultimately saves you time and money. Additionally, you should receive expert technical support during the installation.
Once installed, electric radiant snowmelt systems are virtually worry and maintenance free. And in addition to helping preserve the quality of your concrete, asphalt, or paver driveway, using radiant heat also eliminates the need for salt and corrosive snow melting chemicals that damage surrounding grass and plants. It's worth it to explore the possibilities of radiant heat.